I certainly think so.  Here are a few that I have enjoyed, as well as some recommendations from friends.  I thought it would be nice to create a compilation of potential summer reads.
If you have any suggestions, please comment!
The Monkey Wrench Gang – Edward Abbey
The book that allegedly inspired the Earth First! It has an incredible cast of characters including a billboard-burning brain surgeon, his partner (in crime); a woman named Bonnie, a polygamist Mormon river guide an anarchist Vietnam vet.  Together they sabotage the development of the American Southwest.
Encounters with the Archdruid – John McPhee
Similar time period to The Monkey Wrench Gang.  This is a narrative nonfiction book that chronicles the confrontations between the main character, an environmentalist struggling to preserve the western wilderness, and a series of developers, including the United States government.  Recommended by Casey!
The Dirty Life – Kristen Kimball
This is memoir that was written by a Manhattanite turned farmer.  The story is about her relationship to her partner, Mark, and about their life on Essex Farm in Essex, New York.  The farm provides a full-plate CSA to over one hundred members.  They also use draft horses for tilling their fields, instead of tractors.  It is really radical. I know a few people that are more than a little obsessed with this book and this place.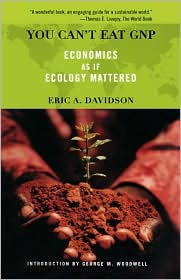 You Cant Eat GNP: Economics as if Ecology Mattered – Eric Davidson
A template for a new system of economics that incorporates what is known as "natural capital;" all of the goods and services that only the natural environment can provide to humans.  Author takes a ecological approach in looking at things such as agriculture, population growth and biodiversity conservation. Recommendation by Holly!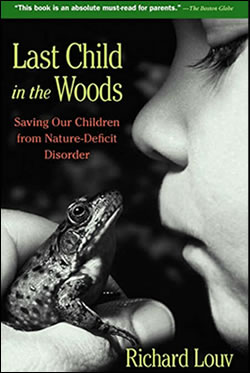 Last Child in the Woods: Saving Our Children from Nature Deficit Disorder – Richard Louv
More of an academic read.  It is about the importance of nature in childhood development. The author documents decrease in the amount of time that children spend in nature, and correlates it with increases in things like obesity, attention disorders, and depression.
Plastic: A Toxic Love Story – Susan Freinkel
Recommendation by Jordan! A history of our addiction to plastic products.